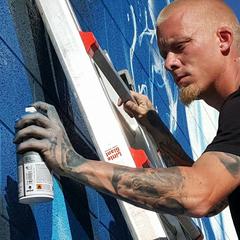 Shae Petersen , also known as SRIL, was born in 1984 in Salt Lake City, UT.
While he was always interested in art, he developed a love of graffiti at the age of 11 years old.
He spent his early years taking the bus to the local hip-hop shop to learn from established artists in Salt Lake City.
He considers BRISK, and KUHR among his mentors, and credit's DALI as one of his main inspirations.
After pursuing a career in design he found himself back to creating with a spray can in 2007.
Although SRIL has no formal training, he's driven by progress and the desire to constantly improve his craft. His work aims to portray emotion using a realistic, yet stylized technique.
Beginning 2013 SRIL has created many private and public murals throughout the United States, most of which are in Salt Lake City, UT. His work can also be found in Denver, Miami, LA, Las Vegas and more.
While not just limited to large scale murals, SRIL has also had multiple exhibitions in Salt Lake City and New York City.
SRIL currently lives in in Las Vegas, NV.