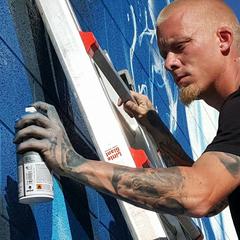 Shae Petersen, better known by his artist name SRIL, is a highly acclaimed mural and aerosol artist based in the western United States. He has gained widespread recognition for his incredible works of public art, including some of the most well-known murals in the Salt Lake City area.
SRIL has been commissioned to create custom murals and canvas pieces for a wide range of notable clients, such as the Utah Jazz, Pluralsight, Utah Motorsports Campus, Marriott, Post Malone, Dan Bilzerian, Patagonia, Ricky Rubio, and Joe Ingles. His work can also be found in major cities across the country, such as Denver, Miami, Los Angeles, Las Vegas, and Sacramento.
In addition to being named Utah's best visual artist in 2020 and 2022, SRIL has received numerous accolades for his public art. He was awarded the title of Best Public Artist in 2014, 2015, 2016, 2020, and 2022. His "Godlike" mural even made history as the first ever mural to reach the #1 post on Reddit, with over 5 million views.
However, perhaps his most iconic piece of work is the "ATLAS" mural, located in Salt Lake City, Utah. The largest mural in the state, it covers an area of over 3,600 square feet. The stunning mural depicts Atlas holding up the world on his shoulders, and has become a beloved landmark in the city.
Despite his impressive accomplishments and recognition, SRIL remains a humble artist who is passionate about his craft and dedicated to creating meaningful works of art that inspire and connect with people from all walks of life.