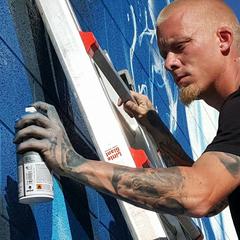 Shae Petersen , also known as SRIL. Arguably one of the most recognized and sought after mural / aerosol artists in the western United States.
Having created some of the most well known public mural's in Salt Lake City area between 2012-2016, and voted Utah's best visual artist in 2020.
He's also completed commission murals an canvas's for notable clients like the Utah Jazz, Dan Bilzerian, Patagonia, Ricky Rubio, Reddit, BYU and Joe Ingles.
His work can also be found in Denver, Miami, LA, Las Vegas and Sacramento to name a few. It has also earned him the awards of Best Public artist in 2014, 2015 and 2016. Additionally his "Godlike" mural was the first ever mural to reach the #1 post on Reddit, and gained over 5 million views.